Many of us are familiar with Amazon as a convenient online store where you can buy almost anything. However, for other people, it's much more than that, it is a fantastic chance to make money.
Did you know that you can make money online from the comfort of your home or while sipping your favorite drink on holiday with Amazon? When it comes to online money making it doesn't get much bigger than Amazon.
Fortunately, Amazon offers a simple starting point for anyone looking for a new or extra source of income. They provide a ton of different ways for you to earn good money using their platform.
Why Amazon
For individuals who want to enter the e-commerce industry, Amazon offers a great opportunity. On the global online marketplace in 2020, Amazon generated approximately $400 billion in revenue, more than half of which came from third-party sales. No other online store generates as much revenue.
20% of all retail eCommerce sales in 2017 were reportedly made on the Amazon Marketplace.
There is money to be made on a variety of online shopping platforms, but Amazon stands out as the biggest and possibly the most versatile choice, whether you're selling or generating income from goods and services.
Customer confidence in Amazon is remarkable. Up to 89% of US consumers prefer Amazon to other e-commerce sites when making purchases. Amazon has established a benchmark for gaining the trust of its customers and fostering enduring loyalty over the course of its comparatively long history as an online marketplace.
Amazon undoubtedly provides a fantastic alternative for you if you're seeking a long-term, reliable method of making money online.
Ways through which you can make money online with Amazon
Regardless of whether you're selling something or not, there are numerous methods to make money online on Amazon. Here are a few ways Amazon can help you make money online, with any of the abilities or resources you possess.
#1. Selling online
While there are other methods to earn money on Amazon, selling is one of the most popular and there are a variety of ways to accomplish it. You can sell directly or indirectly online.
Dropshipping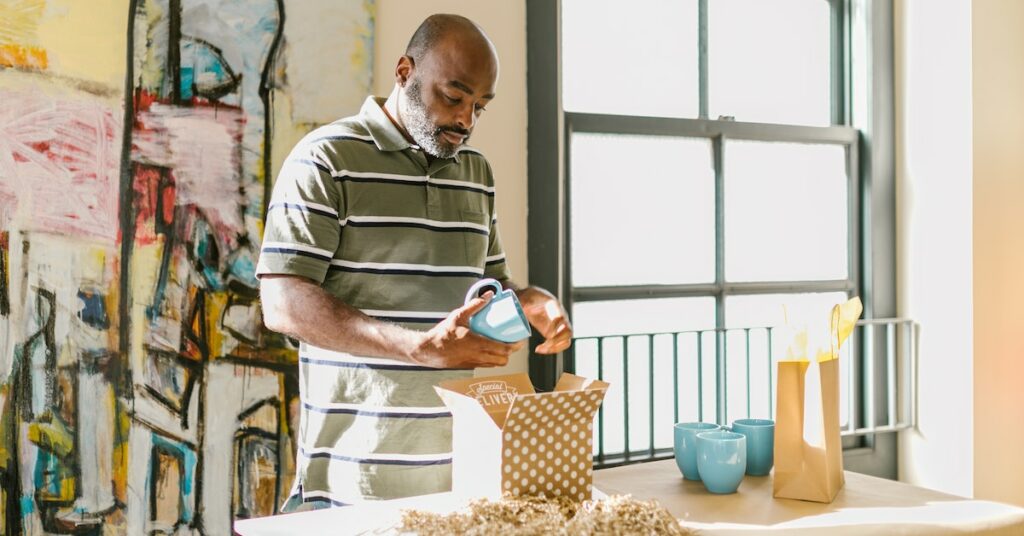 Dropshipping allows you to sell goods without having any inventory. It might be an option for you if you want to make money using Amazon but don't have much money to start with.
You can list things for sale through dropshipping without ever having possession of the product inventory. Simply put, you advertise something for sale, and when a buyer puts in an order, you purchase the item from your supplier at a discount and have them send the order to the customer.
Without ever handling or seeing the merchandise, you as the vendor profit! The logistics will be taken care of by your supplier.
Online arbitrage
The same principles of physical arbitrage apply to online arbitrage, with the exception that you'll be making purchases online rather than in person. This can be a terrific alternative for you if you enjoy finding excellent deals while shopping but don't want to waste time running to retail stores.
Generally speaking, eBay is the best site to shop for discounted things. You can get items for a lot less than their retail price by keeping track of the bidding. Walmart, Target, CVS, and Home Depot, among others, are more online merchants that offer an opportunity to flip merchandise.
These goods can subsequently be sold on Amazon for a higher price. Due to your ability to provide a very competitive price on Amazon as a result of your eBay purchase, you may be able to turn around inventory very rapidly.
Amazon Merch
Merch by Amazon is a viable option for anyone with artistic and design talent. It is a print-on-demand service, through which you add designs to Amazon's design library. Then, you choose whether you want those designs to appear on t-shirts, tote bags, coffee mugs, hats, etc.
You'll need to send a request and wait for a response before you can join Merch by Amazon.
You can market your designs on t-shirts, sweatshirts, and a variety of other items. To sell your goods on Amazon, you won't have to pay anything. With Merch by Amazon, you will only need to upload artwork and specify the product category and color in which the design should be printed.
After that, all you have to do is include a product description and decide on pricing. From then, Amazon handles all aspects of designing a product page, printing, packing, fulfillment, and customer service.
You receive a royalty for each design you sell. The type of goods and the set price of your item will determine the royalty amount. Your earnings are based on how much the product sells for and how much it costs to sell it on Amazon.
Perhaps you believe this opportunity is exclusive to designers. You don't need to be a skilled designer, though, as there are several free online design tools available, such as Canva and Snappa, where anyone can create a design that will be put on a product.
Better still, just visit Pinterest and print any design you want there. Ascertain that there is no watermark on the design.
Do extensive research before beginning if you decide to participate in this program to ensure that you are earning as much revenue from sales as possible.
Sell digital products
It's already established you don't have to sell physical products online, you can sell digital products as well. These include digital music, videos, audio, and apps among many others.
Selling your Android apps on the Amazon Appstore will allow you to reach millions of users of the Kindle Fire, Amazon Fire TV, and some Android smartphones. More than 75% of the Android apps evaluated function without the need for extra development, making it simple to get started.
Integrate the Amazon Mobile Ads API, the In-App Purchasing API, or the Mobile Associates API to monetize your games and apps. These APIs allow you to sell physical goods within your app and receive up to a 6% transaction fee.
On the Amazon Web Appstore, which is accessible in roughly 200 countries worldwide, you may sell your HTML5 apps and websites that are mobile-friendly.
Sell online professional services
There are more ways to make money on Amazon besides selling products. You can also generate decent revenue from an Amazon store if you have a service to sell. Amazon can assist you in making connections with students, whether you coach musical instruments or academic subjects.
There are no monthly subscription fees, start-up costs, or advertising costs to pay. Amazon Services is open to both registered enterprises and independent contractors.
Background checks are also necessary for services given to homeowners. The percentage you pay to Amazon is based on the services you offer and your income. Amazon can help with some of the labor if you don't want to bother with creating a website, marketing your services, etc. on your own.
#2. Advertising online
Affiliate marketing via Amazon associates
Being an Amazon affiliate is one of the easiest ways to make money online with the site without selling anything directly. The affiliate program for Amazon is a true titan in the world of Amazon revenue.
You can become an Amazon affiliate if you have an online presence, whether it comes via a website, blog, social media page, or your role as a community moderator. All you have to do is suggest items on Amazon in a product category that will interest your target market.
You can make money simply by using your current blog or website with the Amazon Associates program.
With the help of this affiliate network, you can make affiliate links for your preferred products and get paid every time someone uses your link to make a purchase.
The Amazon affiliate program operates as follows:
1. Create an Amazon associate account.
2. Set up the affiliate link center.
3. Locate the Amazon products you want to advertise, then create affiliate links for those particular items.
4. Wherever you want to promote the links, make sure to declare that they are affiliate links in accordance with FTC regulations.
5. You will receive modest compensation for each item sold when customers use your affiliate link to buy a product.
An alternative to starting your own Amazon business is to work as an Amazon associate. You might have hundreds of affiliate links for things you like. Without having to oversee any specific physical Amazon products, you can post those links in various places online and earn as much money as you wish.
Amazon influencer
Compared to Amazon Associates, Amazon Influencers is a completely different affiliate program.
This program is made to advertise products on social media platforms like Facebook, Twitter, Instagram, YouTube, and TikTok. If you have a sizable social media following, this would be a fantastic chance.
Influencers who have been approved receive a special URL on their own Amazon page to display the goods you suggest to your followers. You will receive a commission each time one of your followers' purchases one of those items.
The secret is to determine which things each audience member could be interested in purchasing and to sell those products effectively.
#3. Kindle Publishing
The days when you required a major publisher in order to sell your books and make money are long gone. It's simple to publish your first ebook with Amazon and make money online.
You can write fiction or nonfiction. There is a lot of promise with this approach if you can create high-quality content and sell it effectively.
Anyone can accomplish it. Amazon Kindle Direct Publishing (KDP) allows you to publish your ebooks. Publishing your book takes a little under five minutes. It will take between 24 and 48 hours after publication to appear in Kindle retailers around the world.
Utilize Amazon's robust marketing resources and global reach to sell your ebooks all over the world. To take advantage of Amazon's promotional incentives, sign up for KDP Select.
When it comes to self-published books, Amazon lets you choose your own rates. Up to 70% of profits from Kindle sales go to you. Additionally, you have complete control over content updates.
A few bestsellers will work wonders, but in order to be successful with Kindle publishing, you must consistently produce new content. There will be no agent or publisher to help you spread the word, so your work will have to sell itself or you'll have to manage all the marketing.
#4. Amazon remote employee
Amazon is rising swiftly as one of the world's greatest employers. After acquiring Whole Foods in 2017, Amazon's current employees are over 650,000.
Naturally, not all of those workers are based at Amazon's corporate office in Seattle, Washington.
In actuality, many of Amazon's workers are remote workers who conduct their business from the convenience of their homes.
Amazon rep
From the comfort of your home, you may apply for a job and make money online working directly for Amazon with only a personal computer and a phone. From more than 130 sites throughout the world, the customer service team provides services in 16 different languages.
The same is possible for you if you work as a virtual customer support agent. This may be the job for you if you want to work from home and assist Amazon customers.
Customer Service Associate positions on Amazon are updated frequently. To determine if you qualify for any of the full- or part-time positions listed here, look through the listings. Apply online then.
Amazon Mechanical Turk
The Mechanical Turk project may be ideal for you if you just want to supplement your income without having to launch a significant endeavor, find an audience, or sell anything. This is one of the forms of Amazon work that you can enter into with the least amount of initial commitment.
Through this program, you can join the massive army of remote employees employed by Amazon. Businesses and individuals can outsource jobs and processes to a virtual workforce using the platform. This includes activities like data validation, content moderation, data entry, research, and surveys.
Mechanical Turk aims to accelerate project completion by breaking down projects into smaller, more manageable jobs. To sign up, simply create a worker account and enter the necessary details.
Consider signing up with Mechanical Turk if you have the time, skills, and resources to complete microtasks. Many jobs will pay anywhere from $0.10 to $1. The objective is to finish as many as you can because they are really simple to accomplish.
Although it won't get you rich quickly, you may make $15 or more per hour and fit these duties around your other activities with ease. Some of the tasks are quite repetitive and uninteresting. On the other hand, you can work part-time and get compensated for it.
Amazon Freelancing
Working online from home is one type of freelancing opportunity that Amazon provides if you want to make some extra money with them. Amazon lists numerous job positions on its virtual location page, including those for customer support representatives, technical support employees, business development officers, etc.
There are seasonal, part-time, and full-time opportunities available. For the most recent jobs, visit their virtual location website if you believe you have some talent and are able to work from home.
Writing reviews for the Amazon vine program
Writing reviews is another way to get involved with Amazon online, although you won't make money for taking part in this one. Instead, you get free merchandise from Amazon Vine.
You might be qualified for the Amazon Vine program if you've previously published a lot of insightful product reviews on Amazon.
The aim of Amazon Vine is to promote honest, unbiased, and beneficial feedback. Free products are provided in exchange for reviews.
Just because you received the item for free does not obligate you to write a positive review. That undermines the program's intent. Leaving reviews on Amazon products you've previously bought is the best strategy to raise your chances of receiving an invitation to join Amazon Vine.
Conclusion
As a bonus, if you currently operate a successful Amazon business, you might be able to impart your expertise to paying clients. The most preferred business models are advising customers and developing online courses because they both have cheap costs and offer the chance to make significant profits. You can develop a course to assist others in becoming Amazon experts if you are one yourself.
Every year, Amazon increases in both size and status. This forces the business to find novel and inventive solutions to maintain a continuous workflow. The majority of these revenue strategies are the outcome of streamlining Amazon's operations.
You already know that there are numerous ways to make money with Amazon online without spending any cash. You can have a piece of the pie from the largest eCommerce platform in the world if you just have the desire to do so.